Sarah Hackett, L.M.F.T.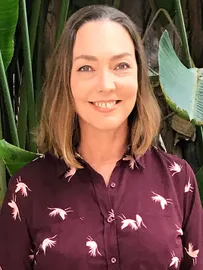 Available for In-Person & Virtual Sessions
I am a Licensed Marriage and Family Therapist and earned a Master of Arts in Clinical Psychology from Phillips Graduate University. I have many years of experience working with diverse age groups and populations such as children, adolescents, adults, families, couples, and LGBTQIA+ communities. I have had extensive psychotherapy and counseling training in a private practice format during my internship at the California Family Counseling Center. I later went on to gain years of valuable experience working in community mental health settings working with co-occurring issues, children, and BIPOC communities. I am passionate about the work I do and have provided mental health services for a variety of clients experiencing struggles with anxiety, depression, trauma, relationship issues, women's issues and substance use, and compulsive behaviors. I am psychodynamically trained and I also incorporate family systems, trauma-informed modalities, attachment theory, and mindfulness in working with clients. What that means is that sometimes the roots of our issues or struggles can be outside of our conscious awareness and can show up as symptoms. Through the experience of therapy with someone listening carefully we can unearth and work through them together. I also believe it can be important to explore how our relationships, both past and present, with family, friends, and others, can play in our lives and the current issues we face. My goal as a therapist is to de-stigmatize mental health needs, and support clients in achieving their goals in becoming who they want to be, how they want to feel, and where they want to go. I focus on creating a safe and welcoming space for clients with warmth, curiosity and compassion. My own path to becoming a therapist began when I discovered the transformative and healing power of therapy. To inquire about setting up an appointment, please call our business line (562) 566-4257.