Psychotherapy | Couples Counseling | Personal Growth |
Mental Health |

Welcome to Daybreak Counseling Center! We specialize in providing the highest quality psychotherapy, couples counseling, & mental health services in Long Beach, Cerritos, and Online virtual therapy throughout all of California. Our online therapy services are provided via video and can easily be accessed in the comfort of your home in accordance with your schedule. We understand that taking that first step toward getting help or seeking personal growth can be the hardest part and we understand that. We focus on providing a safe environment in order to help you speak freely, share your story, ask difficult questions, and face challenging issues in a confidential exchange. We believe in the power of healing & growth that psychotherapy can provide & we want all those who work with us to have amazing experience.
Sometimes circumstances befall us in our journey through life that can leave us feeling lost or confused with various questions. These are some of the ways in which those questions can surface: Is something holding you back in life? Is something getting you down that you feel you can't share with anyone? Do you question why you made certain choices? Are you struggling in your relationships? Are you at a crossroads in life? Does your past have too much influence on your present? Are you seeking personal & relational development? If you have questions like these or similar ones, therapy & counseling can help you. In beginning this search & inquiry for yourself, today you are one step closer to expressing yourself & finding answers so that you can feel a stronger sense of self-empowerment toward a path of positive growth & well-being
As holistic therapists, we pay attention to everything that makes you unique as a whole person, not just your symptoms or current issues, and our goal is to help you uncover your true potential so you can lead a life that is worth celebrating and affirming everyday. While we can't change difficult situations of the past, we can work together to better understand how they effect you in the present in order to resolve challenges in your life and create a new way of being. By utilizing a variety of psychotherapy approaches and techniques chosen to both suit who you are a person and address the issues you bring forth, we will unearth long-standing behavior patterns or negative perceptions that may be holding you back from experiencing a more fulfilling and meaningful life.
If you're looking for help with mental health issues like depression or anxiety, or need extra support and guidance through a challenging situation, or you're just ready to move in a new direction in your life, we look forward to working with you to achieve your goals. Call us today for a free consultation at 562-566-4257.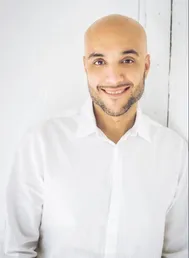 Patrick Cleveland M.A., L.M.F.T.
Founder & Clinical Director